History of EMBOK
The EMBOK began in 1999 when William O'Toole initiated the concept on his website as part of his masters thesis in the application of project management to events. Julia Rutherford Silvers contacted Bill and developed her EMBOK Project on her website Julia Silvers.com (archive now hosted here). Julia began a comprehensive taxonomy of event management. The outline of this taxonomy was used as the basis of discussion for the first meeting of the EMBOK.
The first international meeting of interested parties was convened and sponsored by Janet Landey of Party Design in South Africa. The participants were Glenn Bowdin, Matthew Gonzalez, Janet Landey, Kathy Nelson,Julia Rutherford Silvers, Joe Goldblatt and William O'Toole with Jane Spowart as guest.
2004 Imbizo (Zulu work for a meeting) participants, from left to right, in the back row Glenn Bowdin, Matthew Gonzalez, and Jane Spowart (guest); in the middle row Janet Landey and Kathy Nelson; and in front Julia Rutherford Silvers, Joe Goldblatt, and Bill O'Toole.
The discussion concluded with the development of the model. In particular the inclusion of Design as a Domain and the core values were agreed upon after much discussion.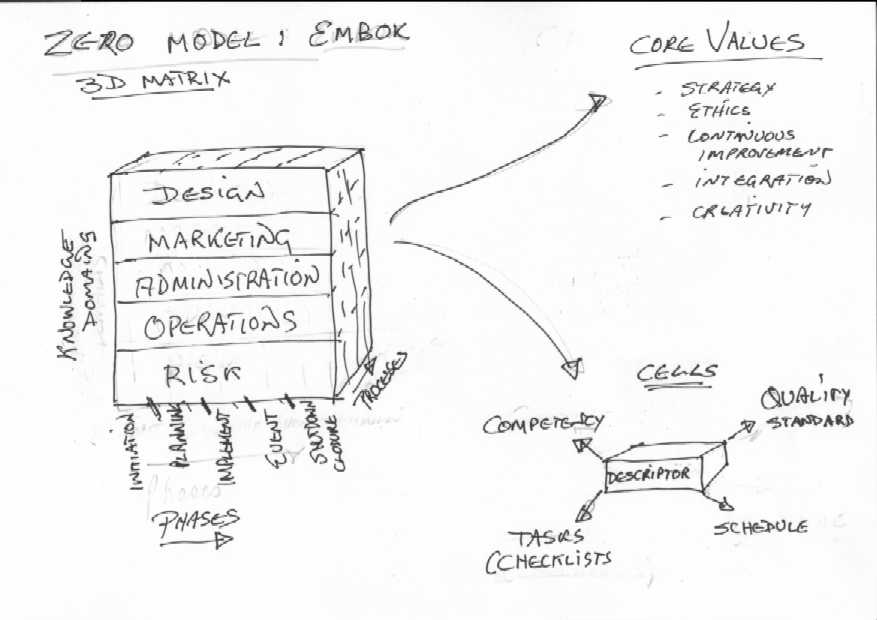 One of the defining features of the EMBOK, separating it from the various textbooks and event courses at that time (2004), was the recognition of the importance of risk management and the inclusion of Risk as an equal Domain.
Janet Landey and her company Party Design since convened two more meetings of the International EMBOK in Johannesburg, South Africa. Each has taken the model and its application into the event fields, such as competency training and event education.
The members of the International EMBOK have made numerous presentations at conference around the world and have reconvened in Johannesburg, South Africa, for EMBOK Imbizo 2 (2005)
and EMBOK Imbizo 3 (2007) and in Winnipeg, Canada, in 2009 for the EMBOK Imbizo 4 alongside the CTHRC International Event Management Standards (IEMS) meeting.